DENSO Diesel Remanufactured Injector Program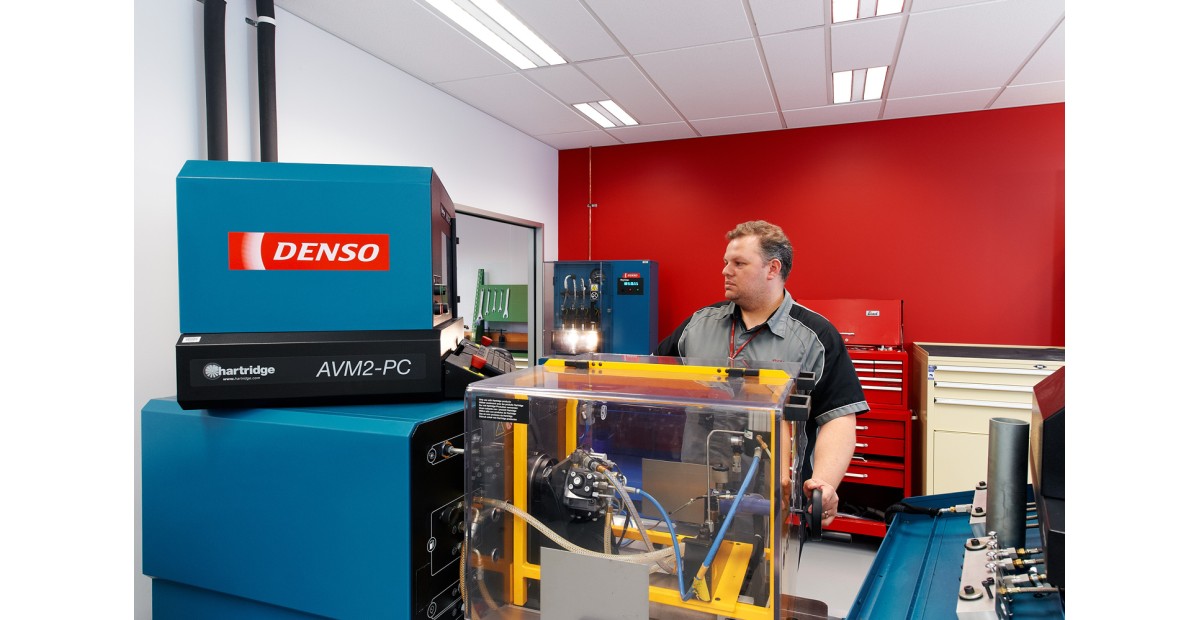 DENSO Australia has introduced a remanufacturing program to offer economical injector repairs. This program is supported by the extensive DENSO service network that spans around Australia.
The explosive growth of diesel-powered passenger and commercial vehicles in the Australian market, coupled with a combination of compromised fuel has seen a spike in the number of diesel-powered vehicles turning up at service workshops.
Such repairs can be expensive, usually involving the replacement of the fuel pump, common rail, injectors, associated fuel lines and cleaning of the tank. Previously, nearly all of these items had to be replaced with new components, resulting in very expensive repair bills. In fact it's been reported that sometimes these can add to up to 50% of the value of the vehicle!
Now, a more viable repair option is available for repairing DENSO common-rail systems. DENSO Australia has introduced a remanufacturing program to offer economical repairs for such cases. This program is supported by the extensive DENSO service network that spans around Australia - in particular DENSO Premium Service Dealers (PSDs) that are factory trained, fully equipped and authorised to diagnose and repair vehicles and fuel pumps with genuine DENSO parts.
DENSO controls the flow of these inner parts and components to ensure the pump repair is carried out by an authorised DENSO Service Dealer.
The injectors are a different story. The stringent emission controls that vehicle manufacturers now have to meet has resulted in higher injection pressures, around 2000 bar or 29,000psi. This has resulted in the injector design becoming much more complex, with finer tolerances than previously mechanically operated injectors, making them far more susceptible to contaminants.
Consequently, the repair process for these high-tech injectors has to also be stringently controlled and the genuine parts are required to ensure vehicle integrity with respect to performance, emission control and longevity is maintained after the repair event. Nozzle retaining nuts and locking pins are 100% replacement items, and where specified, DLC nozzles are also utilised.
DENSO Australia has partnered with local company CFI Australia to manage the remanufacturing process and distribution of DENSO remanufactured common-rail injectors throughout Australia, New Zealand and the Pacific Islands.
To ensure that remanufactured units will meet the factory specification, a strict remanufacturing process has to be followed. Below are the examples of the main steps:
Sorting of Injector Cores
The injector core is sorted with all external unusable items such as copper gaskets, O-rings and packaging being removed and sorted into appropriate recycling bins.
The injectors are then scanned to produce a data sheet that is unique to each injector and will follow the unit through the whole remanufacturing line as part of the quality-control process.
A pre-inspection test and a visual check to identify any unrepairable injector. Damaged injectors will be removed from the process at this stage and scrapped.


Cleaning and Flushing
The injectors are capped (inlet, leak-off and terminals) prior to going into a high-pressure, hot-water stainless-steel wash to ensure they are free from all external contaminants.
They are then tested on Hartridge IFR-50s, which serve a dual purpose of a flush and a pre-test for obvious faults such as a high leak back value and/or solenoid faults.


Dismantling the Injector
Parts are carefully inspected for damage and/or excessive wear. Non-conforming parts are scrapped before further cleaning.
The re-usable injector parts are ultrasonically cleaned at different frequencies and temperatures to ensure all contaminants are removed.


Assembly Process
The assembly process is done in a positive-pressure cleanroom. The cleanroom is designed in such a way that filtered air is pumped in under a positive pressure to ensure dust levels are more or less non-existent.
The usable parts are then assembled with other Genuine DENSO parts.


Testing and Coding
Hartridge AVM2-PC test benches that are specially set up with a factory supplied DENSO controller and hardware are used to test and record the injector performance parameters at various flow rates, temperatures and pressures.
An ID code which contains the injector performance characteristics is then affixed to the injector that passed the bench test.
The test data pertaining to each injector is kept on file for quality control purposes and warranty evaluation if it is required.
As you can see, DENSO spares no expense and cuts no corners when it comes to remanufacturing its products. This ensures that the remanufactured product meets the required specification set by the vehicle manufacturer. Failing to meet this specification can potentially jeopardize the performance and longevity of an engine. DENSO ensures that only genuine parts are utilised, whilst reusable parts undergo vigorous testing to ensure they meet DENSO's high quality standards. This means the customer gets top quality, reliable parts they can count on, for a fraction of the cost of buying new.
Back to news