Filters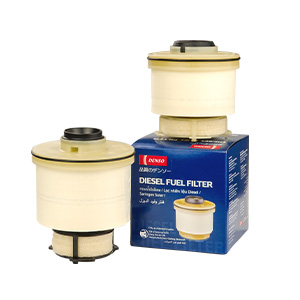 Whether it is keeping pollen out of your vehicles cabin or dirt and water out of your fuel, DENSO are committed to keeping the nasties out while keeping yourself and your engine clean and healthy.

Cabin Air Filter
Cabin Air Filter
DENSO Cabin Air Filters feature high quality, non-woven fabric to remove major air pollutants including dust, soot, lead, sulphates and exhaust particles. The filter fabric is so effective that it can remove particles just a few tenths of a micron in size – ensuring a safer, more pleasant in-car environment.
The DENSO difference:

HVAC friendly: no drop in air pressure that could potentially damage a vehicle's HVAC systems.
Super-fine filtration: up to five individual layers within the high quality, non-woven fleece material trap almost 100% of harmful pollutants, even particles as small as 0.01 micrometers.
High capacity dust holding chamber: keeps pollutants away from the vehicle interior.

Fuel Filter
Diesel Fuel Filters, or commonly known as DFF, filter dust and water from diesel fuel.
Diesel engine components like fuel pumps or injectors are getting more precise, especially for Common Rail System. These components are designed and manufactured within a couple of micrometers of tolerance to accurately work under extreme high pressure.

In such system, filtering dust and water in fuel is quite critical. Even small dust particles can lead to damage for these components. Cost to repair the system is very expensive due to the precise components.
The DENSO difference:
At a filtration efficiency of 5μm, DENSO's unique honeycomb weaving captures the smallest of dust particles.
Highly efficient at separating water from contaminated fuel - keeping your engine safe from rust.